Gear-obsessed editors choose every product we review. We may earn commission if you buy from a link. How we test gear.
The Best Power Sanders, Cordless and Corded
Handy little tools, sanders let you quickly strip weathered exterior paint, remove a finish, smooth a tabletop, and do basic metal prep.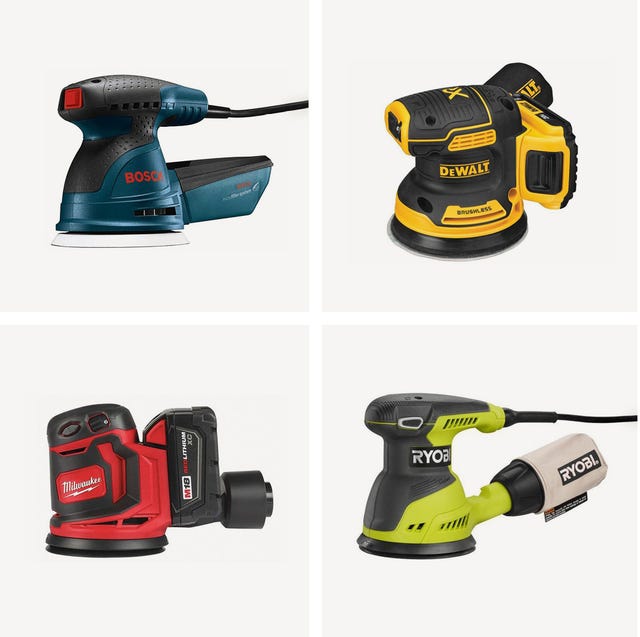 You need a sander. It's that simple. Even if you have no interest in woodworking, you still need one. It can help with craft projects, restoring a yard sale treasure, and repairs to walls, ceilings and trim. Plus, it will quickly remove rust from a garden tool that was put away wet. Spend a couple of hours using a hand sanding block to smooth some jagged paint, and you'll quickly come around to our way of thinking. So we gathered a range of both corded and cordless sanders and tested them to help you find the right machine. We didn't test the performance of the two types head to head. Each has its place. Instead, we compared products within a category against similar products.
Our Test Sanders
Most of the sanders evaluated in this test are random-orbit types with a round pad that measures 5 or 6 inches in diameter. Random orbit means the pad does not spin on a central axis (like the wheel on a car). Instead, it spins and oscillates in a random motion. This action reduces the chances of leaving swirl marks on the surface and allows you to move the sander with and across the grain. We did test one orbital sander (also called a quarter-sheet sander). These tools have square pads that move in a consistent orbital motion; they sand more slowly and less aggressively than a random-orbit type, but their square pad does allow them to get into corners. One final difference between these machines is that random-orbit sanders take a sandpaper disc that attaches to the tool's base with a hook and loop. Orbital sanders use peel-and-stick sandpaper, or you attach a rectangular abrasive sheet to the tool with the clamps on the sander's sides.
Cordless Versus Corded
Going into testing, we expected the battery to make cordless sanders too heavy to be practical. But the difference was negligible: Corded sanders weigh about the same once you factor in the cable's weight.
So the pros and cons lie in how you'll use the sander. Select a cordless one if you spend a lot of time on job sites and already have lots of cordless tool work going on. They're also handy when climbing a ladder or a scaffold because you don't have to contend with the cord hanging down. Opt for a corded tool if you plan long sessions sanding at a bench, especially if you can plug the sander directly into an outlet without the added weight or clumsiness of an extension cord.
How We Tested
To determine the best sanders, we began by marking off rectangles of hardwood, plywood, and softwood and sanding each surface with an 80-grit disc. We then emptied the dust container or bag of each sander and checked the volume of dust it picked up. During use, we took into account vibration and whether the sander left swirl marks on the surface. All of the sanders in this test did well, and we feel any one of these would serve a homeowner. Obviously, more expensive professional-grade models do better overall than their homeowner counterparts and would certainly prove more durable over the long haul.
Toward the bottom, we've included a few tips on getting the most out of your sander and how to protect yourself from dust. Read on for that and our reviews of the best sanders you can buy right now.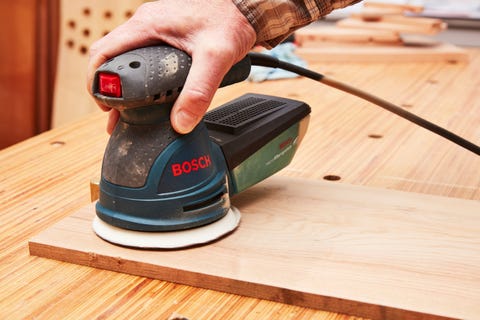 EDITORS' CHOICE
DeWalt DCW210D1
Weight: 3.4 lb.
Battery: 5.0 Ah, 20 V
At full speed, DeWalt's DCW210D1 was the fastest and most aggressive machine we tested. Yet it still sands with very little jarring vibration feedback. It's also important to note that it did better than many other sanders at lower speeds. Some machines exhibit more vibration and loss of effectiveness as you dial back their speed, but not the DeWalt. If you're already invested in the company's cordless system, this tool is a sensible addition. Even if you're not, it's a great place to start since you get the sander, a charger, a battery, and a bag. And the company makes a wide range of equipment from drill drivers and impact drivers to saws that work with the same battery.
Weight: 4.8 lb.
Battery: 6.0 Ah, 18 V
Nearly as good as the DeWalt, this Ridgid has a soft-start feature that brings the machine up to speed with a gentle ramp-up. Our only complaint is a small one: A tight fit between the dust-bag collar and the battery makes removing the bag somewhat difficult.
GOOD DUST PICKUP
Kobalt KOS450B-03
Weight: 6.5 lb.
Battery: 4.0 Ah, 24 V

If you've already invested in the Kobalt 24-volt power tool system, you can feel good adding this to your fleet. Although it's heavy, in part due to our equipping it with a 4-amp hour battery, it packs a fair amount of sanding power. Part of that is due to its weight bearing down on the surface. In any case, it will get you a finish-ready surface in no time. We found its dust collection to be very good, while its vibration isolation is pretty good—just not so much as most of our corded models. The KOS450B-03 sands smoothest and with reduced vibration on its full-speed setting, so we recommend turning the speed dial to six and leaving it there. That's not a complaint, just an observation. But we do have a beef with the fact that the tool isn't available as a kit, only bare. A big deal? No. But be aware of that when you go to buy it.
AGGRESSIVE & EFFECTIVE
Makita XOB01T
Weight: 3.8 lb.
Battery: 5.0 Ah, 18 V
The Makita seemed to sand as fast as the DeWalt, which is surprising given that its top speed is 1,000 rpm less than its yellow competitor. Even with the big battery, it felt well-balanced, and its dust pickup is good. Downsides? The sander does has a powerful gyroscopic action that requires a slight forward bias to keep it sanding on track. Once you get used to that, you're good to go.
(The price above is for the whole kit, two batteries, charger, and case included. If you're after the tool by itself, look here.)
Weight: 4.2 lb.
Battery: 4.0 Ah, 18 V
This little tool hits the sweet spot for Ryobi. It's not as aggressive as the other sanders, but it does sand well and with a high degree of control. Its dust pickup was surprisingly good for such an inexpensive and simple power tool. And this is more of an observation than a complaint, but the on/off button is somewhat stiff. In all, we rate this little tool as a good fit for the frugal power tool shopper.
LIGHT AND EASY
Black & Decker BDCRO20C
Weight: 2.8 lb.
Battery: 1.5 Ah, 20 V
It's not pro-duty, but the BDCRO20C is a good little machine for the price and very lightweight. For small weekend fix-up jobs, there's no question it will work well, particularly when sending less-demanding materials like white pine. While it's a good idea to wear a dust mask with any sander, it's necessary here—it has fairly ineffective dust collection.
BEST FOR WIDE SURFACES
Milwaukee Electric Tool 2648-20
Weight: 4.2 lb
Battery: 3.0 Ah, 18 V
You don't have to muscle this sander to keep it in place, and it feels as if it floats over the board's surface. However, the design of the dust canister and the way it cantilevers over the rear of the tool is a bit cumbersome—especially considering that this is a cordless tool, we would have liked if it were a bit more nimble. So the ideal application for this sander is smoothing out a table top or dealing with a rough spot on wood siding. It's better there, let's say, than working inside a drawer. To be fair, however, if you opt out of the canister, you can easily hook up a hose from a shop vacuum to its outlet port. At that point, it's no more cumbersome than other sanders.
Good for High-Up Projects
Porter-Cable PCCW205B
Weight: 3.0 lb.
Battery: 1.5 Ah, 20 V
Porter-Cable's tool is lightweight and capable, making it a good choice for ladder-based work; you should have no problem holding it overhead as you smooth scraped paint. But before going up that ladder, beware. It's easy to think that the little plastic finger that locks the dust canister in place is engaged when it's not. If you're not paying attention, that can result in a dust spill that will make a mess out of you and the work area.

EDITORS' CHOICE
Bosch ROS20VSC
Weight: 3.5 lb.
The Bosch is comfortable, sands fast, and has the best dust collection of the corded sanders we tested. Because its dust control is so good (owing to a rubber O-ring seal on the dust port, good airflow, and an airtight dust canister), less dust stays on the surface to get ground into the abrasive pad. That means the pad stays cleaner and lasts longer. Its speed control dial is behind the handle; you can get at it easily, but it's possible to accidentally move it out of position. The sanded surface it left is very nice—a hair less smooth than the Milwaukee's but still of a professional quality.

SANDS INTO CORNERS
Metabo HPT SV12SG
Weight: 2.5 lb.
Metabo's tool was the only quarter-sheet (non-oscillating) orbital sander in the test. It's a good power tool that transmits a minimum of vibration to the user as it goes about its work, somewhat slowly producing a reliably smooth surface without swirl marks. Its dust collection is quite good (if not as good as other corded models), but its dust port is not easily adaptable to a vacuum. On the other hand, it does have a major advantage compared to other sanders in that you've got multiple options for its abrasive sheets. You can use the peel-and-stick kind, buy the pre-cut 5.5 x 4.5-inch sheets designed for such machines, or buy a roll of 4.5-inch-wide abrasive paper from which you cut pieces to fit the sander.
ALMOST PRO QUALITY
Ryobi RS290G
Weight: 4 lb.
The RS290G is a simple and solid sander, but its dust-control bag is not nearly as efficient as the airtight canisters on the Bosch or the Milwaukee. This isn't to say that it does a poor job picking up dust, considering its competitors do a nearly flawless job. This Ryobi sands with good speed and power and completed sanding its test areas in about the same amount of time as its competitors. In terms of the quality of sanded surface it produces, we'd say that it's surprisingly good for the price, even if it's not as good as with the Milwaukee or the Bosch.
SMOOTH OPERATOR
Milwaukee 6034-21
Weight: 3.5 lb.
The Milwaukee was the smoothest-running corded sander of the bunch, with a distinct lack of gyroscopic wobble and a pleasant vibration-free motion. Its dust control was good, but removing the dust lid from the canister was ridiculously difficult. Furthermore, the lid can be applied so that it feels like it's snapped on when it isn't. You sand for a few minutes and find that the sander is a dusty mess, as is the surface. Then you have to clean up the sander, the surface, and maybe yourself, too. Just be sure you have that lid attached properly, and you'll be rewarded with a pleasant power tool that works smoothly and quickly, leaving a flawless surface.
FOR CRAFTSMAN FANS
Craftsman CMEW231
Weight: 3.5 lb.
Surely, if anybody can build a decent power tool, Craftsman's parent company, behemoth Stanley Black & Decker, can. You're not going to go wrong with the CMEW231–it's fast. If you need something heavier-duty, maybe purchase a pneumatic sander instead. That aside, this tool gives you smooth, vibration-free sanding, decent dust pickup, adequate power, and a dust-sealed switch. It's not particularly loud either. If you're already a Craftsman user and you like to stick with one brand, you'll be pleased with this.
JOURNEYMAN
DeWalt DWE6421
Weight: 2.9 lb.
DeWalt's DWE6421 is a journeyman power tool—a good, solid, smoothly operating machine essentially identical in feel and sanding performance to the Craftsman. Having noticed the similarity of performance between this and the Craftsman, we did some superficial disassembly of them both, removing their bases and the top housing covers. There may be something tucked deep inside the DeWalt to give it an edge in terms of durability, but it wasn't obvious from above or below. Putting aside cosmetics of color and slightly different rubberized surfaces, these appear to be identical in sanding performance, start and stop speed, weight, and tool configuration.
MAINTAINING YOUR SANDER AND YOURSELF

Sanders don't need a lot of care, but they do need a little. The best thing you can do for it is to blow the dust out of it using compressed air (or a can of compressed air purchased at an office supply store) or use a shop vacuum and work over its exterior, especially its air vents.
Now protect yourself, especially your lungs: Wear a dust mask when sanding. Better models have a foam strip to help the mask make a better seal to your face; they may also have a vent that reduces moisture buildup under the mask.
Clean up as you work to prevent large piles of talc-like dust from piling up. And when you're done sanding and ready to take a break, either brush or vacuum yourself off before going inside the house or other clean area. It's also a good idea to wear an old shirt, coveralls, or a shop apron and leave that in the sanding area, rather than bringing dust into the house. Having a floor mat outside the shop (or work area) is great. Remember what your mom said: Wipe your feet (or take your work shoes off)! This cuts down on tracked dirt, which is more than just a nuisance. Remnants of sanding grit on you shoe soles can scratch finished floors, and tracked-in dust can form an eye-watering or throat-scratching irritant as it spreads throughout the house.
Using a sander is pretty simple and there are only a few key rules:
Move the sander slowly and steadily over the work surface. Racing back and forth is hard on the tool and the surface.
Don't skip more than one grade of grit as you move from coarse to smooth. Example, you can go from 100 grit to 150 (skipping 120) but don't go from 100 grit to 220 grit. It doesn't hurt to move through each size of grit, from coarse to smoothest, but for all but the finest of work, it's not necessary.
Vacuum the surface clean with a shop vacuum and a brush attachment when you're done with each level of grit. This removes any trapped grit particles hiding on the surface. For furniture-grade finishing, wipe the surface clean with a tack cloth (a sticky piece of cloth used to pick up dust; it's sold in the paint aisle) before proceeding to the next grit.
Don't tip the sander near the edges because it will round them off. Of course, if you prefer a slightly rounded corner, that can be a good thing. For example, paint sticks better to a gently rounded corner than to a sharp one.
This content is created and maintained by a third party, and imported onto this page to help users provide their email addresses. You may be able to find more information about this and similar content at piano.io